Mastering challenges in agile projects
Work on your agile practice cases!
Especially when introducing agile methods in the organization, Scrum Masters and Product Owners face the daily challenge of effectively applying the Scrum framework. Agile approaches often contradict established organizational processes and must be explained and justified again and again. Thus there is always the danger of falling back into old patterns and processes. 

In this seminar you can check your knowledge about agile project management and deepen it on the basis of your very own problems from practice.
Short theory input on the SCRUM framework
Working on specific problems from practice
Using case studies of the participants, the theoretical knowledge is deepened and consolidated and problem solutions are worked out.
Possible issues:

We fail to prioritize the product backlog
The user stories are not clearly defined
The speed of the team varies greatly from sprint to sprint
The daily scrum meetings always last longer than 15 minutes
The sprint backlog is not updated
No sprint goals are formulated
Management wants progress reports
The review meeting is not held
The retrospective is of no use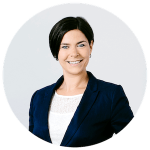 on demand 
available as a customized inhouse seminar
If you are interested in customized in-house trainings please contact: