90-Minutes-Workshop: Increase work enjoyment & performance in the home office
The current situation in the home offices:
Companies will have the majority of their employees working from home at least until spring. Even a vaccine will not lead to a return to "normal operations before Corona." Hybrid solutions, such as 3 days home office, 2 days presence, are to be expected.
Many companies have now adapted their previous organizational structure to the virtual framework. Operational coordination now takes place in remote meetings. But are travel and set-up times being used in a meaningful and sustainable way? 
Managers and employees lack informal exchange and social interaction. Innovation and creative problem solving often fall by the wayside. Active leadership, team spirit and self-motivation become more difficult as the home office continues.
Companies that proactively address this new way of working situation in the home offices can sustainably raise individual motivation, avoid tensions and realize high job satisfaction while simultaneously increasing performance. In this workshop, the Blue Ocean method is used to work on these potentials.
The 90-Minutes-Home Office-Workshop – As an anchor point to sustainably increase job satisfaction and performance:
Clearly structured, innovative 90 minutes online workshop that is enough to inspire new ways of thinking.

Shows that a sum of seemingly small improvements and changes can make a big impact.

Makes clear that innovation and creative problem solving need to be organized differently in a virtual culture.

Reveals that good or poor meeting preparation has an even greater impact virtually.

Leads to higher individual work performance through job satisfaction and self-motivation.
In cooperation with: 
Andreas Salcher
The workshop will use the Blue Ocean Method to work on selected search paths, such as:
Time gained: How can the daily time savings of 30 – 90 minutes be used for more creativity and enjoyment of work?
Virtual leadership: How do you change the organizational culture so that virtual meetings can be best prepared and efficiently conducted?
New creativity: How can employees discover new potential in themselves? How can they contribute their ideas, which they develop in a self-determined atmosphere?
Autonomy and structure: How do I create a daily structure that best suits my personality type and situation?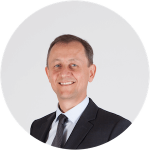 bookable as a tailor-made inhouse-workshop
If you are interested in customized in-house trainings please contact: